Live the emotion of a day spent on an antique boat, that won the price "Best renovation of the year" in 2004, equipped with all the comforts you may need.
Ruggero II can cruise with engine or with its traditional Latin Sail, because it's an ancient wooden boat once used for minerals transport.
For its shape it performs well with all kinds of seas, granting a safety cruise and also the chance to enter the caves and get very close to the coast.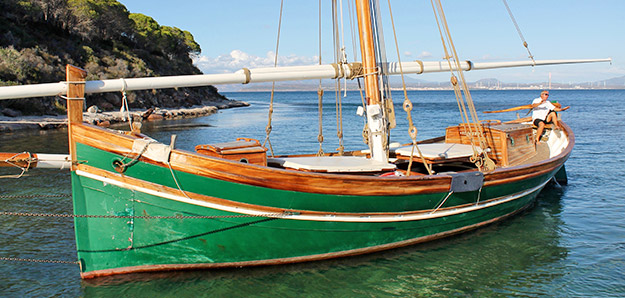 A skilled and kind staff will take you all around the island, visiting the great cliffs, the golden beaches and the lonely bays, and serving you a tasty lunch or dinner with typical food from Carloforte, mainly based on Red Tuna or Cous Cous.
It's also possible to visit the near Sardinian coast in front of the Pan di Zucchero white stack, between Porto Flavia and the Laveria La Marmora, where they used to extract and work the minerals. And more, you can visit the Lighthouse, the white sand dunes of Porto Pino and the Corno Island.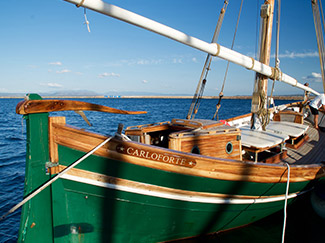 Brief history of Ruggero II
In 1893 the axe master Giovanni Biggio created a wooden boat with Latin Sail that was called Ruggero II.
Beautiful and strong, it had to transport minerals from the south west coast of Sardinia (Buggerru, Porto Flavia, Piscinas), and San Pietro's Island.
In Carloforte there was the only sheltered harbour of the area, and from there lead and zinc where charged on steamships and moved towards the Italian peninsula.
Ruggero II has been on duty up to the beginning of 1900. Afterwards renamed Buon Cuore, it has been used for many different purposes (salt transport, fishing, towage), and after all traces where lost.
In the year 2000 a young man from Carloforte, Salvatore Luxoro, found it completely abandoned in Olbia, and decided to renovate it.
Ruggero II found a new life in 2004 with its original name, and being the only wooden boat of its kind still existing, it became a cultural symbol of the Geo-mining Park of Sardinia.
It competed in many Latin Sail competitions, and won the National Championship in 2005.
Today it is used for turism and participates at every cultural event with all its precious load of history.